I am so excited to be teaming up with Johanson Journey and Ashley along with other fab bloggers and
Pick Your Plum
! You can find PYP on
pinterest
,
facebook
&
their website
. (
Pick Your Plum
is AWESOME)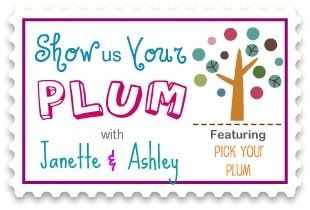 I almost never agree to things blindly but when Janette asked if I wanted to be a part of this I was all like "Yo! Sign me up! I am so down.." or something like that! :)
Janette walked up to me with a Hello Kitty bag that contained my
Pick Your Plum
package.
I was nervous and excited. What is it?! * prayed of God don't let it be something that needs sewing skills.*
I waited until she was gone to open it. I didn't want her to see the look of panic! I'm not THAT creative of a person. I just get lucky and sometimes I make something very pretty.
*Cue Jaws Theme song or other scary music*
Love the Zebra duct tape.
And this is where I freaked and stared at it for 10 minutes. No lie!
OK so what's a girlie to do with blank wood? Paint it!
I started out by painting the wood white in a an attempt to "prime" it and because I planned on "aging" it so I wanted some white to show through.
I have a crappy camera but this pink is VERY pink!
I used black paint on the stencil. Then I had to paint the smaller pieces of wood along with some extras I found.
I HAD to add some blingy little hearts.
I made the larger rectangle it's own separate item. I LOVE how it turned out.
So what happened to the smaller rectangles?! Well, after I painted them, glued them together added some ribbon.. and presto!
I am SO SORRY but I can not get this picture to turn the right way!
I am sooo happy with how this project came out. The
Pick Your Plum
challenge was fun and the items were great quality!
I'm off to see what everyone else made and you should be too!
FYI: You can participate, too!
Starting TOMORROW (Feb 1st) you can link up any craft that you've made using a Pick Your Plum product!!!! 1st Party runs from February 1st-February 29th!
And there will be a giveaway from no other than Pick Your Plum!!!! I would love to win!If you enter as well, you are entering to win a
PYP
Mystery Box full of amazing products!!
The winner will be announced on March 7th as the next party begins.