It's Wednesday again!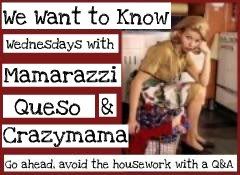 Hosted by the always lovely ladies
Seriously Shawn
,
Impulusive Addict.
,
Janette
and
Mamarazzi
1). If the blogging world had a talent show, what would your act be?
Ummmmm....The ability to write a quick blog about NOTHING with a wild toddler climbing on me. Does that count? Is that a talent?
2). What's the most likely reason you might become famous?
I think I'd be famous for being mouthy. I talk a lot. Oh, I'm nosey too! I should be a talk show host or journalist. But only if I can pry and ask embarrasing questions
3). What question are you repeatedly asked that you are tired of hearing?
Oh man. I may be opening a can of worms with these but I'm sick of people asking when C and I are going to get married. We're not even formally engaged at this point people! I am also tired of people asking when we're going to have another baby. The answer to both is "whenever we're ready".
4.) What's the last thing you broke?
Um.. Hmm... I break things pretty often but I think the last thing I broke was glass from a picture frame or maybe a coffee mug.
5.)
Finish this sentence. I can't believe I used to ________.
I can't beleive I used to have a life before my son. Seriously, what did I do with myself?!
Good questions again today! I hope you guys enjoyed reading. Leave me a comment and tell me your answers or leave me a link to your blog. :)