I wait all week for this! I <3 Wednesday!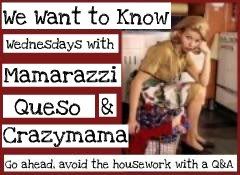 I'm loving this weeks questions!! Good job
Seriously Shawn
!
Don't forget the rest of the lovely ladies that host this great day!! Stop by and show them some love!You know you wanna...
Janette
,
Implusive Addict
, and
Mamarazzi
1.What is the best or worst pick up line you have ever been given?
Oh man....seeing that I spent EVERY weekend for about a year or so in the clubs of downtown Dallas aka Deep Ellum, I have heard a LOT of these. The WORST one I've heard was "Nice shoes, wanna #@%*?" I'm serious! This guy actually said this to me! Oh, then there was a guy that said, "Wow you look like a redhead Christina Ricci." Seriously?!?!? How DRUNK was he?!
Case in Point...
............................
2.What is your most and least favorite day of the week?
My favorite day of the week is probably Saturday! I get to sleep a little bit later. * We're talking 6:30 or 7am on Saturday compared to 5:15 or 5:30 during the week.* And I get to spend all day with Monkey! My least favorite day is probably Monday.
3.How many hours of sleep do you require each night?
I have to have at least 5. In an ideal world, I could get 6-8 hours.
4.Is there a song that takes you back in time? What song is it and what memory is it attached to?
I have memories attached to just about any song! It's really hard to just pick one song! *thinking thinking thinkg* Oh! I got it! I listened to this song while getting ready for my very first date with C.
5.What is your biggest guilty pleasure?
Pedicures!!! But those are few and far between sadly! Money is tight with us right now so I feel guilty spending money on just me.
*Disclaimer* These are not my feet. My feet are chubby... :P
Thanks for reading today! Feel free to leave me a comment with YOUR answers or just write your own blog and link up for pete's sake.